The Humanitarian Emergency Settings Perceived Needs Scale (HESPER)
Posted by Gulbenkian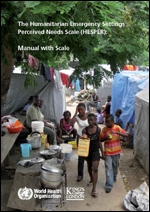 The Humanitarian Emergency Settings Perceived Needs Scale (HESPER) aims to provide a quick, scientifically robust way of assessing the perceived serious needs of people affected by large-scale humanitarian emergencies, such as war, conflict or major natural disaster. Perceived needs are needs which are felt or expressed by people themselves and are problem areas with which they would like help.

The HESPER Scale assesses a wide range of social, psychological and physical problem areas. However, it does not provide an answer as to whether, or how to, offer help. It simply aims to identify those serious problems that are common in a population. These problems should then be assessed and addressed in more detail.

The HESPER Scale was developed by the World Health Organization and King's College London in order to fill several gaps in the humanitarian field. It enables needs assessments to be based directly on the views of people affected by humanitarian emergencies, and provides a more accurate picture of the serious problems with which the overall emergency-affected population wants help.

This manual includes the HESPER Scale, as well as a detailed explanation of how to use the HESPER Scale, and how to organise, analyze and report on a HESPER survey.