Mental health in Armenia: new perspectives
Posted by Gulbenkian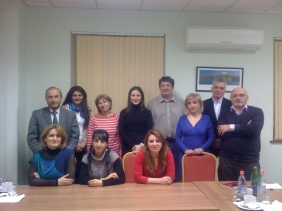 Within the framework of signed memo between Ministry of Health of RA and Open Society Foundations a working group has been created to develop a mental health strategy for the Republic of Armenia

Representatives of the following areas are involved in the working group: Ministry of Health, Ministry of Labor and Social Affairs, Ministry of Science and Education, Parliament of the Republic of Armenia, psychiatric and psychological services, higher educational system and NGOs.

The director of the working group is Armen Soghoyan - the president of Armenian Psychiatric Association and the Head of the Licensing Department of Ministry of Health of RA. An expert from Open Society Foundations (OSF) Zsolt Bugarszki is involved in the project.

It is also planned to attract specialists from other international as well as local health and legal sectors for further expert conclusions in order to make the policy to be developed even more holistic and comprehensive.

The group has finalized the implementation steps to be undertaken and accomplished by 2014, as well as designed the monitoring and evaluation plan of the whole process and the expected outcomes.