Mobilizing French communities through Mental Health Weeks
Posted by Gulbenkian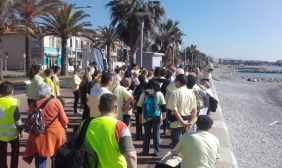 Through Mental Health Weeks, civil society organizations and mental health professionals have been promoting mental health awareness at the grassroots level in France for the past 27 years. The purpose of these Mental Health Weeks is to fight ignorance, stigma and exclusion around mental health through local awareness campaigns organized in and by communities.

WHO's Collaborating Centre for Research and Training in Mental Health in Lille, France, coordinated the Mental Health Weeks for 12 years before handing over the responsibility to Psycom in 2014. Psycom is a public body of information and training located in Paris, whose aim is to fight against stigma in mental health.

At the start, Mental Health Weeks mainly focused on events organized by nongovernmental organizations supporting families and psychiatrist associations. The yearly movement has become even greater since various users, social services, professionals, mental health local councils and elected officials began taking part. Today, the movement is supported by a consortium of 23 partners, and thousands of people are locally involved in organizing the events each year.

In 2016, more than 1300 events were organized across France during the Mental Health Weeks. One of the flagship events is "the urban itinerary" held in several cities during the two-week-long campaign in March. The itinerary is followed by the population either by bus or on foot, and features visits to several locations to learn about treatments and services for the wide range of mental health conditions and disorders.

"The urban itinerary" invites inhabitants to learn more about mental health and discount misconceptions, all the while enjoying a pleasant walk. Some of the misconceptions and questions addressed are:

· "psychiatry is only treated in hospitals";

· "people with mental health disorders cannot be integrated into society";

· "do I have the right to go to a mental health centre?";

· "I'm young and I get depressed, who can help me"?;

· "what is a listening reception point?"

French Mental Health Weeks use a multisectoral approach involving a wide range of stakeholders in its grassroots strategy to promote mental health and prevent mental health conditions and disorders. This supports Objective 3 of the WHO Mental Health Action Plan 2013–2020: "to implement strategies for the promotion and prevention of mental health".