Global Mental Health Communications Toolkit
Posted by Gulbenkian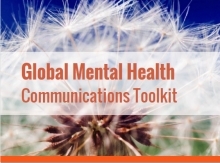 This toolkit will help you to know:
1. How to package your key messages to make them remembered and acted upon by your stakeholders.
2. How to plan your communications methods and activities to achieve your project and policy objectives.
3. How to produce perfect communications products, including impact summaries, blogs, infographics and policy briefs, to communicate your key messages to your stakeholders.