2016 Gulbenkian Summer Course on Global Health and Health Diplomacy
Posted by Gulbenkian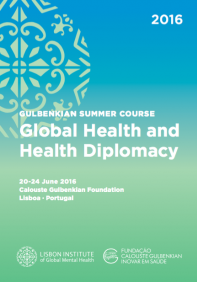 The goal of the Summer Course is to provide an updated and solid understanding about the main topics and challenges of these new disciplines. The training is addressed to:
· Health Professionals

· Diplomats

· International Organisations Staff

· NGOs Staff

· Students of Master and PhD Programmes
Participants will learn how to analyse the implications of major challenges of Global Health and the processes of negotiations leading to international health related agreements. The training activities will provide the key elements for understanding the major underlying determinants of poor health and the relationship between health and political, social, and economic development with an emphasis on low and middle-income countries.
More information here.