Lebanon ill-equipped to handle mental-health issues of Syrian refugee children
Posted by Gulbenkian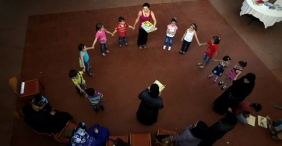 After Amira's two uncles were killed in the siege of the Syrian city of Qusayr, she lost the ability to walk.

The 5-year-old had watched an uncle bleed to death, seen her home shattered by shells, had her arm struck by burning shrapnel. The psychological toll was too much and she stopped eating. Her muscles atrophied and her legs no longer were able to bear her meager weight.

"She saw a lot," said Amira's mother, who asked that her name and that of their family be withheld to freely discuss her daughter's psychological condition.

After they fled to Lebanon, Amira's mother would carry her daughter to schools where she met the staff members of a local non-governmental organization, Beyond Association, who arranged for Amira to get psychological care and treatment for her malnourishment. A month and a half after receiving medication and starting school, she began to walk again.

Amira's case offers a glimpse into a devastating mental-health crisis that is taking hold among Syria's refugee children, many of whom fled destruction at home into neighboring Lebanon, only to suffer the trauma of displacement — as well as exploitation, communal tensions and domestic violence.

The stress has left many with mental illnesses that include anxiety disorders, depression, post-traumatic stress disorder and developmental problems. Over half a million children have fled to Lebanon and four out of five of them are out of school. More than a million Syrian children in total have become refugees in Lebanon and in other countries.

The crisis is exacerbated by a lack of funding, awareness and infrastructure for mental-health care in Lebanon and growing tensions with local communities as the Syrian war continues to bleed across the border, aid workers say.
Read The Washington Post story here.