New website of the Mental Health Innovation Network
Posted by Gulbenkian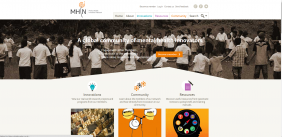 The newly launched website is an expansion of this original microsite, which now includes:

· An expanding online repository of innovations in global mental health, providing an overview of each innovation and its impact, designed to link users directly to tools, publications and other materials developed by the innovators.

· Communication tools including blogs, webinars, podcasts and opportunities to ask questions to some of the field's leading experts, generated by and for MHIN's members.

· Resources to support researchers, practitioners and policy makers in their work, including systematic reviews, policy briefs, research summaries, infographics and screening and diagnostic tools. These resources are collated by MHIN's team and contributed by MHIN members from all over the world.

· A space for individuals and organisations working in global mental health to profile their work and interests, and link to resources they have generated and shared with the community.