Disability Rights International-Ukraine plans an inclusive future for a New Ukraine
Posted by Gulbenkian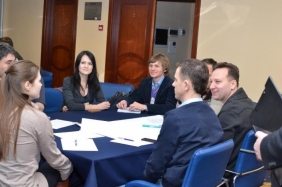 DRI's Ukraine office director Halyna Kurylo has been invited to help lead this charge as a human rights expert in the country-wide New Ukraine initiative. DRI-Ukraine is fighting to ensure that persons with disabilities will be included in all aspects of Ukraine's reforms and that segregated and abusive institutions are closed and replaced with community-based services and family supports.
Twenty years after the fall of the Soviet Union, the legacy of misguided policies to segregate children with disabilities has resulted in Ukraine having one of the world's largest populations of institutionalized children and adults.
As the international community considers foreign aid to Ukraine, the country now has the rare opportunity to leverage international aid to reform its service system for persons with disabilities and ensure that every child has the right to grow up in a family, in the community.
It is critical to address these issues as soon as possible, as decisions made during a time of reconstruction will have long-term impact on Ukrainian society. This situation presents a valuable opportunity to protect its most vulnerable population from the start.