Mental health service users launch Healthwatch guide
Posted by Gulbenkian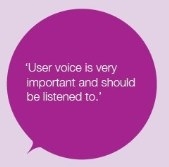 About 30 service users joined 15 Healthwatch from around England to launch the handbook and take part in training together.

Experts by experience, like Sheffield's Stephanie De La Haye, provided chapters on areas like conducting 'enter and view' visits of mental health services and talked through the guidance at the launch.
Read The Guardian story here.