BBC News reports on abuses in Georgia's institutions
Posted by Gulbenkian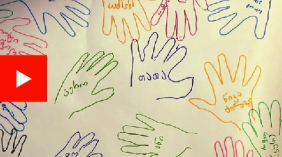 "Georgia has become one of the first ex-Soviet republics to abolish state orphanages in favour of foster care. But disabled children continue to be marginalised and face the prospect of life-long isolation from society," reports the BBC.
See the BBC Coverage here:
Last month, DRI released a report, Left Behind, documenting atrocious human rights violations in the Republic of Georgia's orphanages and institutions for persons with disabilities. Sixty-one local Georgian NGOs have expressed support of DRI's report and have demanded that the Georgian government act now to protect the lives of children and adults with disabilities in Georgia's institutions.
The United States government also bears a special responsibility for addressing these human rights violations. DRI's investigation found that the US funded the construction of two new segregated and abusive institutions for adults with disabilities. The BBC reports that for many, detainment in these facilities "...means living in isolation for the rest of their lives."
This week, DRI submitted an open letter to US Secretary of State John Kerry, calling for a commitment from the US government to fund the creation of community services in Georgia to enable people with disabilities to move out of US-built institutions and live, with support, in the community.
DRI also calls for a prohibition on the use of US international aid to build segregated facilities for children and adults with disabilities anywhere in the world.
Read the letter to Secretary Kerry here.