Left Behind: The Exclusion of Children and Adults with Disabilities from Reform and Rights Protection in the Republic of Georgia
Posted by Gulbenkian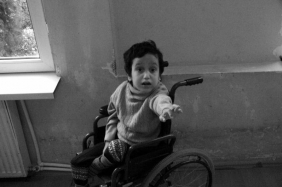 The report is the product of a three-year investigation by disability experts and health professionals from the United States. According to the report, infants and children are left to die without medical care or pain medication at the Tbilisi infants home, a practice that constitutes torture under international law. Medical experts say the squalid conditions and lack of care in Georgia's orphanages and institutions contributes to increased disability, high rates of mortality, and avoidable deaths. Improperly stripped of legal rights, parents with disabilities are separated from their children who are raised in other institutions. Georgia's laws prevent victims of abuse who are detained in these institutions from seeking justice.

"There is a shadow system of orphanages run by the Church and outside of government control or oversight. No one knows how many children are in this system or how they are cared for," says the report's main author, Eric Mathews of DRI. "This creates a serious risk of further abuse, disappearance of children from families, or trafficking."

The report, Left Behind: The Exclusion of Children and Adults with Disabilities from Reform and Rights Protection in the Republic of Georgia, criticizes United States and other foreign assistance efforts that have funded and rebuilt institutions, such as Martkopi and Temi, that improperly segregate children and adults with disabilities from society. The report praises Georgia for closing down many orphanages for children without disabilities and creating opportunities for them to live with families in the community. But the report also finds that these very reforms have discriminated against children and adults with disabilities by leaving them to languish in institutions, separated from society, and at-risk of abuse and death. "There is an urgent need for the government of Georgia to save its children with disabilities from these abusive environments and to provide opportunities for them to live in the community," said Eric Rosenthal, the Executive Director of Disability Rights International. "International donors have contributed to the problem of improper segregation, perpetuating human rights violations against people with disabilities. We call on the United States and other donors to help fix the problems they created."

Anna Arganashvili of the Georgian advocacy organization Partners for Human Rights (PHR) spoke out in support of DRI's findings: "For years, the government of Georgia promised they would find a way to ensure that children with disabilities would return to family and community life. Those promises remain unrealized. The new Minister of Labor, Health and Social Affairs now tells us openly: these children will remain in institutions. Children with disabilities have been truly left behind. Their lives and their future look very bleak."