Hidden Pictures Global Web Screening
Posted by Gulbenkian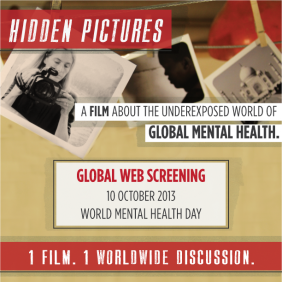 1 Film. 1 Worldwide Discussion.
On World Mental Health Day, the Gulbenkian Global Mental Health Platform will participate in the Global Web Screening of Hidden Pictures, an award-winning new film about global mental health.
Filmmaker and physician Delaney Ruston, who grew up in the shadow of her dad's schizophrenia, explores the hidden struggles faced by the 450 million people living with mental illness worldwide. Through deeply personal stories involving bipolar illness, depression, schizophrenia and anxiety in India, China, Africa, France and the US, Hidden Pictures reveals a global epidemic of silence on mental health, as well as moments of profound compassion and remarkable change.
Tune in during any time on October 10th at http://bit.ly/hidpicsfilm to watch Hidden Pictures and join a global dialogue about mental health issues.